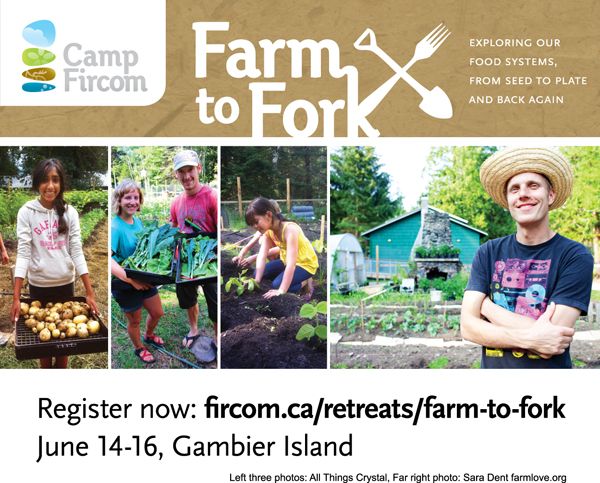 Guest post by Jocelyn Wagner
There's an island retreat in Howe Sound where aspiring gardeners, farmers and food lovers gather.
On June 14, grab a water taxi from Horseshoe Bay and ask for 'Fircom'. You'll ride the Pacific waves for twenty minutes and arrive at the southwest point of Gambier Island.
A young farmer, Jill Wheatley, will walk you and your fellow visitors up the path to your heated cabin accommodation. Take note of the 90-year old Jubilee Hall, recently revived from its roots as a United Church sanctuary for residents of Vancouver's Downtown Eastside.
As you walk a bit further with Jill,the dense forest shoreline breaks to an opening. You have arrived at your weekend destination: The Fircom Farm.
"Growing wholesome food is a gateway to natural exploration," says Jill Wheatley, retreat organizer and Fircom's land and farm coordinator.
And eating wholesome food helps get the creative energies flowing!
After a fresh meal by chef Ana-Luz Cobon, you'll dive, hands first, into workshops with the knowledgeable Sara Dent of Young Agrarians, Gray Oron of Fresh Roots Urban Farm and, of course, Andrea Potter of Rooted Nutrition who is back for the retreat's second year.
"Being part of the first Farm to Fork was a real treat for me. It brought together my areas of interest, from growing food to food politics to composting. I had a well rounded trip, with enough time to both slow down by myself and reap the benefits of the island's natural beauty, as well as participate actively in workshops and connecting with people from my urban community."
Farm to Fork is the time and place to relax in nature and have all your questions answered about planting, growing, fermenting and cooking food! But the conversation doesn't end after workshops.
Join your fellow participants for morning yoga, ocean paddling, forest hikes and endless farm wandering. Even Swedish massages are available! (For an additional fee or barter offering.)
Farm to Fork is one of many opportunities for Vancouverites to enjoy exclusive access to this island destination. Fircom offers seasonal weekend retreats and summer camps to kids, adults and families. The goal? To develop healthy, sustainable communities in nature.
"Every visitor to Fircom is encouraged to spend some time on the farm. Whether you sit and admire the hummingbirds feeding on nasturtium nectar or help the farm team with the day's harvest, these small events inspire a continued understanding of local food production as a sustainable practice."
For a gardening foodie urbanite, there really is no place like it. And it's yours to enjoy — you just have to register!
For more information, visit: fircom.ca/retreats/farm-to-fork/
E-mail questions to: jillw@fircom.ca
Register by May 30 for early bird rates!
You can follow any responses to this entry through the
RSS 2.0
You can
leave a response
, or
trackback
.